N&S Ground+Water Tanzania LTD. services

Ground+Water Tanzania Ltd. provides the range of groundwater exploration and development services, as well as water system construction, inspection, and rehabilitation of tired, obsolete or dilapidated systems, and water treatment
Borehole (Well) Drilling


At the heart of groundwater supply development is borehole drilling and well construction (drilled wells are boreholes in Tanzania). This is a highly technical type of construction. GWT mostly utilizes air rotary DTH hammer drilling with casing advance and fluid capabilities to manage unstable formations. Skilled drillers perform the work under the supervision of the project manager and geoscientists. Ours or yours.

​

Geophysical surveying and scientific services


Scientific (hydrogeologic) and geophysical imaging surveying is conducted prior to and and in addition to borehole work. Much of Tanzania is granitic and other igneous and metamorphic bedrock. That's where the aquifers are, but it can be tricky to find the optimal spots by random drilling. So, borehole sites are selected by geophysics in combination with other local hydrogeologic knowledge and signals such as vegetation patterns.

Geophysical methods (generally magnetic and resistivity)

are used (along with geologic study) to gain an understanding of the geology prior to drilling to improve the chances of success and reduce risk.

We also conduct scientific

pumping tests

using valid methods with hydrogeologic analysis to determine aquifer and borehole characteristics, and to size pumps properly.

We also have and use the "truth machine":

Borehole video

, which shows what is really down there, or helps in retrieving lost equipment such as pumps. This is a vital inspection tool.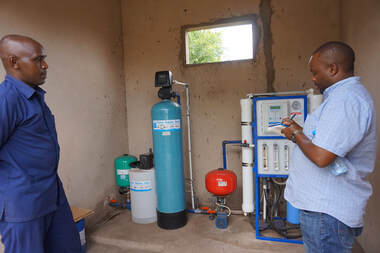 Water system construction: Our commitment to quality extends to the plumbing, masonry and structural work that brings the precious water to your structure, distribution point, or field.

Water treatment: Sometimes the job is not finished with delivering water. Areas of Tanzania have serious water quality problems, including excessive fluoride and nitrates, and locally, issues with mining and processing waste (mercury) and other natural constituents such as radionuclides. We spec, install and service water treatment.
---

N&S Ground and Water Tanzania Ltd. (Ground+Water Tanzania)
P.O. Box 1235, Plot 35 Block F, Ipagala West
Dodoma, Tanzania